Perfect your process
Gencoa is a customer-focussed company providing expert solutions for the vacuum coating sector throughout the world. For more than twenty years, Gencoa has been perfecting its range of magnetron sputter cathodes and plasma deposition components, in addition to the introduction of process control and sensing products. In 2016, the company moved into its new purpose-built production and R&D facility in order to drive business expansion and bring new innovations to the market.
Contact Gencoa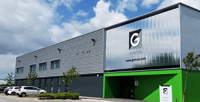 To contact Gencoa at our Liverpool headquarters, click for contact details.
For details of international representatives, refer to our list of worldwide contacts.