Rectangular planar magnetron
Gencoa have a well-established track record of providing rectangular planar magnetrons and technology for coating of flexible substrates, architectural glass, solar cells, displays, touch screens and semiconductor wafers. In particular, the electrical insulation of our cathodes mean we are the partner of choice for any high power RF or HIPIMS application.
Downloads
Gencoa Newsletter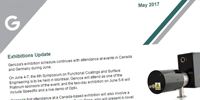 Signup to Gencoa's newsletter to receive exhibition news and updates on new product releases.