Rectangular XH magnetron
The new XH high target-use magnetron from Gencoa offers market-leading material efficiency for 150mm wide planar sputter targets, and a clean target surface to provide high quality films and long target lifetimes.
The XH source combines all of the standard features of Gencoa planar magnetrons with the added benefit of longer lifetimes and lower material costs. The XH magnetron is aimed at applications using expensive target materials or where higher system uptime is required.
Typically uses for the XH magnetron are as follows:
Extended campaign lengths of between two and three times longer than a standard source
Lower target material costs – high target use (more than double the target usage of a standard source, and more than 50% that target usage of a HY source)
For materials that are difficult from a rotatable target shape
For materials that need to avoid a water to vacuum seal (e.g. Lithium)
For ITO low voltage sputtering with high target use
HOT target option for ITO tiles
Architectural glass sputtering of silver for 50% savings on silver target cost based upon 150mm wide targets, 25mm thick
Architectural 300mm wide XH option for >200 kg of sputter silver material
Gallery




Downloads
Upcoming Events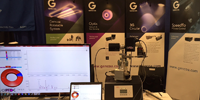 14 June 2023

- Vacuum and Technology Exhibition

15 June 2023

- IOP Plasma Surfaces and Thin Films

28-29 June 2023

- Advanced Materials Show

23-26 July 2023

- ALD 2023